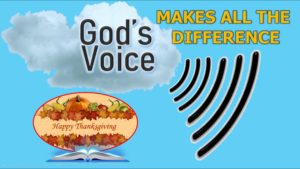 During this Season of Thanks; Consider the Source of ALL THINGS GOOD! (James 1:17) Consider the Originator of all that you ENJOY! Consider the Voice of God!
The Bible says: "The Lord merely spoke, and the heavens were created. He breathed the word, and all the stars were born. For when God spoke, the world began! It appeared at His command." – Psalm 33:6,9. Eleve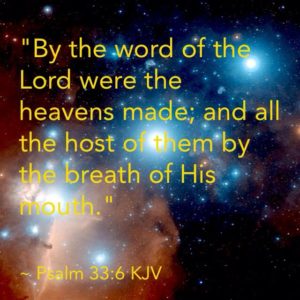 n times in Genesis chapter 1 and 2 it begins a sentence or paragraph with "God said" and He spoke something into existence. From Light to space, day and night, earth and sea to plants and animals…God spoke and it was! Being that God's voice is THAT POWERFUL, imagine what His voice can do for you today! His word is right there on your smartphone or tablet. It is right there in between the leather bound pages of your Bible. His Voice echos through your soul with every reading of God's word or sermon you have heard preached or taught. His powerful words are speaking in the still small voice of the Holy Spirit inside of every true believer. God's word speaks to every situation we may face or are facing in one way or the other. Do not underestimate God's voice!
It is God who spoke and gave you taste buds to enjoy good food, ears to hear good music, eyes to see the beauty all around you, hands to feel the soft skin of a baby and feet to carry you to His house to worship God in His presence! God gave

you

a voice too! A voice to ACTIVATE His word when you speak it. Isaiah 55:11 says: "It is the same with my word. I send it out, and it always produces fruit. It will accomplish all I want it to, and it will prosper everywhere I send it."
Accept the challenge to enlarge the Power, authority and importance of God's word in your day and in your life! Stop underestimating God's Voice! He deserves Praise and Thanksgiving for all He has created and provided for us. To God be the Glory for His Amazing Word and powerful Voice! When God speaks, it does not just say something once…it continues to be and to speak and to say something FOREVER! His word is NEVER idol, mute, or still! It Works, Moves, Creates, Delivers, Encourages, Corrects, Transforms, Guides, Judges, Loves, Provides, brings Peace, Protects, and always Succeeds! So put God's word in Your Heart – It will cause you not to sin against Him. Put God's word in your mouth and you will make declarations and decrees that will bring Blessings and prosperity to your life and soul. Put God's word on display in your life and everyone around you will see His glory and will be blessed! WOW – What a wonderful God! "Give Thanks unto God, for He is good and His love endures forever." (Psalm 107:1) "Give thanks in all circumstances, for this is God's will for you in Christ Jesus." (1 Thessalonians 5:18) To receiving a blessing, click on the media below to hear Jimmy Swaggart sing: "His Voice Makes the Difference."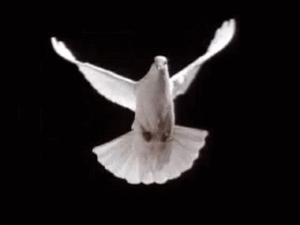 Yes, there is such a thing as Ghosts…but I really only know of ONE. The HOLY GHOST! And we are not supposed to be scared of Him at all!
He is the 3rd manifestation of the "Triune God Head".
1. Convict the world of sin (John 16:8)
2. Be a Helper, Comforter, Advocate and Guide to the Believer
(John 14:16)
3. Dwell in the heart of a Christian. (Romans 8:9)
4. Teach and guide us into all truth (John 16:13)
5. Give the Spirit filled believer Power to be a Witness for Jesus (Acts 1:8).
6. Help us bear His Fruit – evidence that God is in our lives and we are growing more like Him (Galatians 5:22-23).
7. Give Christians gifts to operate in God's will and ministry; even in supernatural ways. (1 Corinthians 12).
8. To help us pray when we don't know what to pray (Romans 8:26).
So the Holy Spirit does not want us to be scared of Him. In fact, He would like us to fully immerse ourselves into Him and allow Him to control our lives in harmony with God. (Galatians 5:16-17). This is not suppose to be scary either. Because if you learn to Trust God, you know He will do nothing to hurt you, only to help you, protect you, provide for you and bless you. The Holy Spirit's function in our lives is what makes it possible for God to work all things, ultimately, to come out for our good (Romans 8:28). The Holy Spirit also anoints us to do those things Jesus taught us and modeled for us to do. Acts 10:38 is one of my favorite scriptures: "How God anointed Jesus of Nazareth with the Holy Ghost and with power, who went about doing good and healing all who were oppressed by the devil. For God was with Him." Wow, what a powerful scripture. And this same Holy Spirit is with us like that too!
You know the scripture, 2 Timothy 1:7 that says "For God has not given us a spirit of

fear

, but of

power

and of

love

and of a

sound mind

."
So actually, God wants us to have a WAAAAAY opposite reaction to His Holy GHOST. God desire's His Spirit to give us confidence in Him, never fear! This confidence comes from a pledge that is confirmed in us and our soul when we allow and desire the Holy Spirit to work in our lives (2 Corinthians 5:5). In fact, having the Holy Spirit working in our lives will help us be less scared, anxious and afraid. So if you struggle with anxiety, fears, or weaknesses of any kind (Romans 8:26) I would suggest you draw closer to the Lord and ask Him to work more through you, by way of His Holy Spirit. And He will! Never be scared to let go and let God have more control.