Mother's Day This Sunday!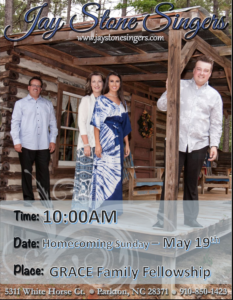 Homecoming Sunday – May 19th
Special Start Time: 10:00AM
With the Jay Stone Singers. This family brings a touch of modern along with southern Gospel music to inspire a time of worship.
Rev. Elton Bryan, Pastor David's Dad, will bring the message.
Following the service, at 12:00PM we will enjoy Home cooked food like only Grace Family cooks can bring it on Homecoming Sunday!
All are invited!