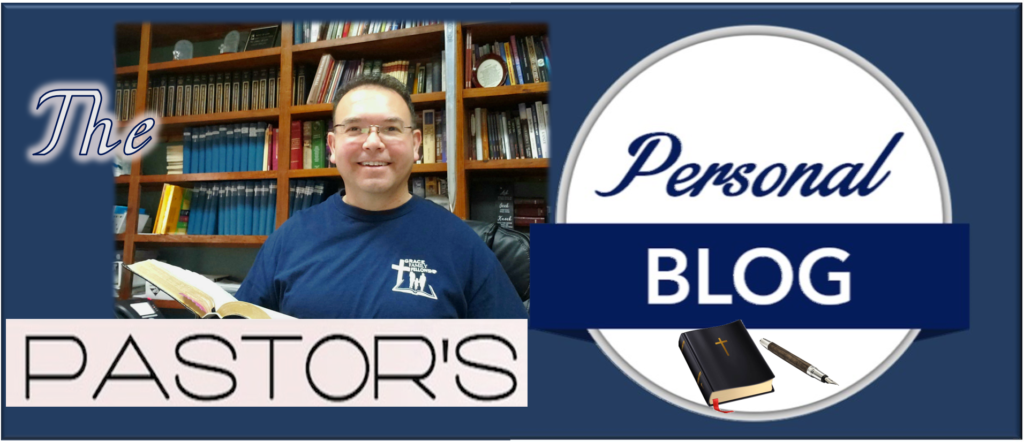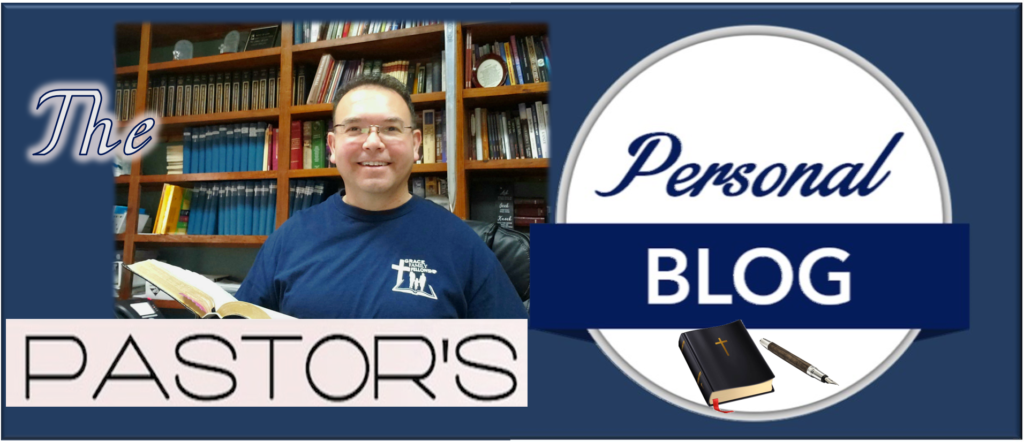 Tis the Season to Sing!
I love Christmas Music at Christmas time! But did you know your life can be a song? Jesus' life certainly was. From birth till His death and Resurrection until now and forever; songs will be sung about His life, His glory, and the difference He made in this world and in our lives! How about your life? It can also be a beautiful melody unto the Lord. Psalms 42:8 says "The LORD decrees His loving devotion by day, and at night His song is with me as a prayer to the God of my life." Our lives can be a love song to the Lord and a song of praise to our God. God's gift of life to us through Jesus, the Messiah, should stir us to sing songs of praise and devotion! But not just in form of music. But with our whole lives! Casting Crown's Mark Hall wrote a song that says: "Let my lifesong sing to You, I wanna sign Your name to the end of this day. Knowing that my heart was true. Let my lifesong sing to You!" We desire our lifesong to be written by the acts of love we do and show toward others. Be kind, respectful, and careful to think of others better than yourself (Philippians 2:3). Build others UP instead of tearing others down with your words. Your lifesong can make others feel good, just like the music you love!
One of our songs we are singing in the Christmas Cantata is titled "Speak Oh Lord". As we become more like Christ and allow His life to shine through ours; we desire God's voice to speak through us and sing through us more and more. We desire God's truth to be planted deep enough inside of us that it dictates our thoughts and actions. So much so that others can see and hear it. May your song this Christmas season be heard by all around you; and may it bring glory to God's name!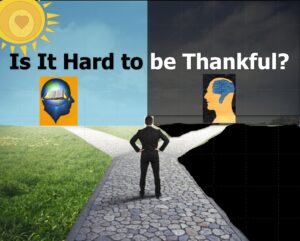 Is it Hard to be Thankful?
Well, it depends upon your perspective. If you are mostly negative and your outlook of the future is pessimistic and bleak…you may find it hard to be thankful. If you focus upon your problems and meditate on them too much, you will find it hard to be thankful. If you get caught up in the trap of "what if" thinking and always fear the worse happening…you will find it hard to be thankful. If you replay bad experiences in your mind or live with a victim mindset…you will find it hard to be thankful. But God's word challenges us… Psalm 19:14 "Let the words of my mouth and the meditations of my heart be acceptable in Your sight, O Lord, my strength and my Redeemer." If we allow our PERSPECTIVE to be governed and shaped by God's truth and choose to meditate on His promises and the things that please Him…Thanksgiving will come naturally! You can't help but be thankful when you see the Lord's hand all around you. That should be the PERSPECTIVE of the Christian believer. God's word challenges us to be transformed, and He mentions first our minds (Romans 12:2b). And the Lord instructs us in Philippians 2:5 "Let this mind be in you which was also in Christ Jesus:" Our perspective determines a lot of how our attitude will be, our mood, and how our day goes. It can influence your decision making. Your perspective, if unhealthy, can even become a drag on others; pulling them down with you, instead of doing what God's word says; "build others up"! (1 Thessalonians 5:11) Now don't get me wrong, the Lord can understand when we have a bad day and our mood is not the best. He can sympathize with our weaknesses. But let us all strive daily to steer our minds toward a perspective that is guided by God's truth, not just by the situations of life. And when we do, we will be a thankful people, a healthier people, building others up and glorifying the name of the Lord.
Understanding the Antichrist "spirit"
Many believe that the "spirit of Antichrist", that John spoke of in his Epistle (1 John 4:1-3 & 2 John 1:7), is somehow an evil opposite of the Holy Spirit. This is not true. Remember, the devil is just a fallen angel. The devil is not all powerful nor is he omnipresent (everywhere at once). At the very best, satan and his devils (millions of fallen angels), work on people to spread their lies and deceptions. John uses the example in 1 & 2nd John, of people who were saying that Jesus was not God in the flesh (bodily form). John said that such people were deceived and that this was the "spirit" of the antichrist. In other words, this is a false belief that spreads and creates the wrong "spirit" and attitude in people toward Jesus. The Holy Spirit is a "Person" of the Godhead: He is God and has all the powers of God; can be grieved, sinned against, and lied too. He, the Holy Spirit can teach, comfort and lead to all truths! The antichrist spirit (which is separate from The Antichrist, who will be a man, perfectly possessed by the devil), this spirit is simply the ideas, beliefs and lies that go out into the world that lead people away from belief in Jesus, and who HE really is! This "spirit" (idea and belief) against Jesus is very dangerous and can spread to lead many away from God. The only comparison that could be made between God's Holy Spirit and satan's "spirit" is that God's Spirit works to bring people to Him, where as the "spirit" of antichrist works to spread lies leading people away from God. But the Holy Spirit can work on His own accord and partner or become the ally inside the believer. The "spirit" of antichrist is limited and can only work through the atmosphere of lies through the minds and hearts of people. We the Church, allied with the Holy Spirit, can combat these evil "spirits" by SPEAKING Truth into our society and world and LIVING the LIFE for Jesus! We can be confident in this because God fights for us! And one day EVERY KNEE WILL BOW AND EVERY TONGUE WILL CONFESS that HE is LORD!!! (Philippians 2:10-11; Romans 14:11; Isaiah 45:23)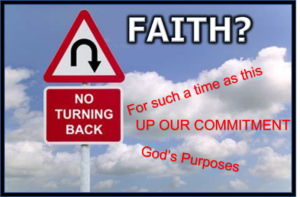 Do you have a "NO TURNING BACK" Faith?
Hebrews 10:39 (NLT) "But we are not like those who turn away from God to their own destruction. We are the faithful ones, whose souls will be saved." During this season, we need a strong commitment to God unlike EVER BEFORE! So many in "the church" seem to be backing down from commitment when it is high time to UP OUR COMMITMENT for such a time as this! We have talked recently about how God does not have an "agenda" (an intent to do something); He has a Purpose! God does not intend on doing something, HE DOES IT! Psalm 115:3 "Our God is in Heaven and DOES whatever He pleases." We need to stop "trying" to get things right or do better and start DOING! God has called you and I for such a time as this for HIS PURPOSE; not to be floundering or lax, but to be more committed, alert, and prayerful! Let us be among the number of believers that anchor our heels in deeper with the LORD instead of turning back. May the Power of the Holy Spirit rise up in us and bring us all closer to God! The purpose for God's church is to 1. Reach the perishing with the Gospel of Jesus. 2. Teach others God's word through Discipleship (both with our words and lifestyle). 3. Connect believers with other believers (Biblical fellowship & accountability) and 4. Send (or release) believers into the world to minister and make a difference! And all this for God's glory, which is worship! So, are you postured and ready to fulfill God's purpose? Or do you need to make a deeper commitment today? "Forward Momentum!" "Speak Life + Live the Life" "The Love Agenda" God is speaking to us as a church. LORD help us to listen in THIS season.
The Year of the "+"
With Disney+, Paramount+, Apple TV+, and LGBTQIA+…the world is offering a lot of additions that in most cases, are not adding anything good for us as Christians. And many of the things they are trying to add to our hearts and minds are straight from satan and hell! But God offers a Plus that brings GREAT benefits to our lives; both in the now and into eternity! Let's look at 2 Peter 1:5a-8 "…make every effort to add to your faith goodness; and to goodness, knowledge; 6 and to knowledge, self-control; and to self-control, perseverance; and to perseverance, godliness; 7 and to godliness, kindness; and to brotherly kindness, love. 8 For if you possess these qualities in increasing measure, they will keep you from being ineffective and unproductive in your knowledge of our Lord Jesus Christ." We can't go wrong adding God's nature and knowledge of who He is into our lives. Doing so will be the only way to avoid adding worldliness instead of godliness. The pressures to conform only get stronger…and we will be filled with something. But God is calling us to fill our lives with more of Him! Let us heed the call to add more of Him and less of me. John 3:30 "He must increase, but I must decrease." God's +
The God who Never Changes

:
The Wow Factor – A Beginning thought:
Imagine how frustrating and pointless it would be to live a decade pursuing God and Him reveal Himself to you; And then Him CHANGING ON YOU!??
I started out thinking, okay, this is an easy one. I know God does not change. We are told in Malachi and Revelation etc… and Hebrews 13:8 where it said: "He is the same yesterday, today and forever.
I am in awe of how important this attribute of God is. So much about God hinges on His Immutability (The God who does NOT change). Just think of His Love…I'm glad He does not Change His unconditional Love for me when I let Him down. I'm glad His Grace and Mercy toward me does not become fatigued as I struggle to grow my roots deeper in His truths.
"Humanity desperately needs a God who cannot be modified, altered, or adapted." (Page 27 Behold Your God: The Weight of Majesty)
An Amazing Word from God

:
As we were digging into this marvelous meal in Malachi, I am moved to Worship and Praise God! Even though God's people have shifted and turned away from God in different ways through the generations, God has never shifted or turned completely away from His people. "He has freely made promises to them and freely kept those promises." "Jacobs's family (God's people) always changed–But nothing they did, right or wrong, can alter the covenant-faithfulness of God." When they turn away from Him, His call to come to Him remains firm (like the prodigal son). So when we return to Him, He promises to meet us as we return. He even promises "I will return to you." – Page 34
What a Wonderful and Faithful God
As a Christian today, God's plans for you have not changed! "…NO changes in situation–your family, your job, your home,your health, your church, or your nation–can alter these plans" (even a pandemic!). Pg 35

This is such a wonderful promise to consider. I know if you read through these first few days of Lesson 2 and the verses and scriptures, you are encouraged too. If you would like, share in the comments at the bottom of this page what the Lord is speaking to you. Remember others can read it also.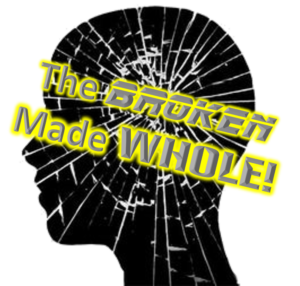 Our world is hurting! And a hurting world creates broken people. I have personally never met anyone, who has lived very long, who did not have some brokenness in their life. But I have also never read a Christian Bible that failed to point to the solution! Jesus!
Not a cliche – but a powerful Name that can bring Powerful results. Just add faith and a lifestyle surrendered to Him and there is Nothing God cannot do! Isaiah 61:1-2 says:
"The Spirit of the Sovereign LORD is on me, because the LORD has anointed me to proclaim good news to the poor. He has sent me to bind up and heal the brokenhearted, to announce that captives will be set free and prisoners will be released from darkness. To proclaim the year of the LORD's favor and the day of vengeance of our God, so comfort all who mourn…"
Jesus quoted part of this in Luke 4:18-19, because He was the fulfillment of this scripture.
God has designed us for His purpose. Yes, sin messed things up, but God fixed that too by sending His Son Jesus to live among us, teach us of the Kingdom, die for our sins and then resurrect victoriously over death, hell and the grave, & prove our blessed hope!
But what about now? You have been dealing with the Coronavirus/pandemic… you may be struggling financially, dealing with loss, sick in your body, battling with daily pain, worried about your family, fighting temptations, terrified by anxieties and/or depression issues, living with past mistakes, battling to keep your faith or spiritual disciplines strong…

The list could be endless! How can God expect you to rise to your fullest potential with so many things pressing you down? Here's what the LORD says:
#1. He has given us His promise that though we will face trials and tribulations on this earth, (John 16:33) Jesus said He had overcome the world so we could one day overcome. God has promised to be with us always, even in the battles, fights, storms and fiery trials! (Deut. 31:6; Joshua 1:9; Isaiah 41:10; Matthew 28:20).
#2. God has given us His Holy Spirit to live inside of us (1 Corinthians 6:19;
1 Corinthians 3:16; Romans 8:11). If we will walk by the leading of the Holy Spirit and Holy Scripture, we will be strengthened (Read Psalm 119). God literally offers His presence to us! Emmanuel! He will comfort us, fight for us, give us wisdom, and heal us from the inside out! Your life will even bare life fruit's that are a result of His Spirit (Galatians 5:22-23). These are all things God promises us if we will walk in Him.
#3. God will anoint you! Our Father does not just anoint His Son Jesus. When He anointed Jesus, He was making provisions to anoint you too! I love Acts 10:38 "

God anointed Jesus of Nazareth with the Holy Spirit and with power. Then Jesus went around doing good and healing all who were oppressed by the devil, for God was with Him."

God will anoint you! God will empower you! God is with you! The devil really has no chance UNLESS we forfeit these promises from God! If it was done for Jesus, it is the Christian's also: Ephesians 1:11,14; Romans 8:17; But this does include suffering. Anointing is developed in our lives by a mix of ingredients that includes our own experiences and pains, our hard lessons learned, and God placing upon us and in us His Holy Spirit. It is a mix of the natural meeting the supernatural! It is a mix of the beautiful and the ugly! It is beauty coming from the ashes!

Well, that is enough for now. Meditate on these 3 and we will be sharing more with you as the year unfolds…God willing! Also check the Home page that contains the New Theme Emphasis and Scripture for 2020-2021. I love you and am praying for you!

Read more...
---